We have photographed some beautiful weddings at Lethbridge's Norland Historic Estate before, but a Harry Potter themed wedding was the first! This one was a bit unique for sure and the amount of details that went into the day was amazing to see. Congratulations to Shane and Mandie, who with the help of family and friends, created a magical wedding day from start to finish. And we mean really, REALLY magical!

Upon arriving at the Norland Estate, I was surrounded by a flurry of family and bridal party members, who were busy getting ready in neighboring rooms. The Norland was the perfect venue for this wedding, and is the closest you can get to a castle (or school of witchcraft and wizardry?) in Southern Alberta. They were amazing to work with and the staff were on point with friendly service. The guest's & staff's energy were contagious as the events of the day were about to unfold.
What's more amazing, is that due to some unexpected circumstances, their wedding was to be planned in only 4 months! And by chance, their venue choice also became unexpectedly available. A bit of a magic must have been involved.
Guys wore sleek gray suits from with summery teal-blue ties, from Tip Top Tailors.

"When Sharon's flowers arrived at the venue, I broke into the best kinds of tears. She so uniquely captured my vision and helped take my Harry Potter theme from campy to elegant without losing the whimsy. I couldn't have been more pleased."

Mandie
Mother-of-the-Bride, Colleen, was dressed to match in a beautiful deep purple dress. These two are such a sweet and funny pair, I loved capturing these photos of Colleen helping Mandie get ready.
Mandie's wedding dress was altered by Leta Gashari / Sew Nice, and was absolutely stunning. It was the perfect mix of classic lace detail, modern fit and flare, and whimsy and magic.
"…although she was swamped with wedding dresses and grad gowns, she put everything on hold for me and worked for 4 days straight on my gown, going above and beyond. It was GORGEOUS." 

~Mandie
This cute shot was Mandie's idea, she wanted to showcase her personality and theme in this gorgeous pre-ceremony bridal shot. Her beautiful, "wizard like" boots were a garage sale find (lucky much??), but they were just a few inches too short. Flint Leathers in Lethbridge did a great job adding height and shining them up like new.
As guests arrived at the Norland for the ceremony, we took a moment for a first look with Mandie's father. The moment was emotional and beautiful, as Mandie and her father embraced on the upper balcony of the estate.
The ceremony was like watching a Harry Potter movie unfold before your eyes: letters from Hogwarts, owls, guinea pigs, a luggage cart, and platform 9 3/4 were just a few of the wonderful details that made a unique and memorable ceremony. Mandie herself was responsible for all of the Harry Potter decor, and the thematic production of the ceremony! (Mandie Vredegoor – Thought Nation Entertainment 587-920-6171).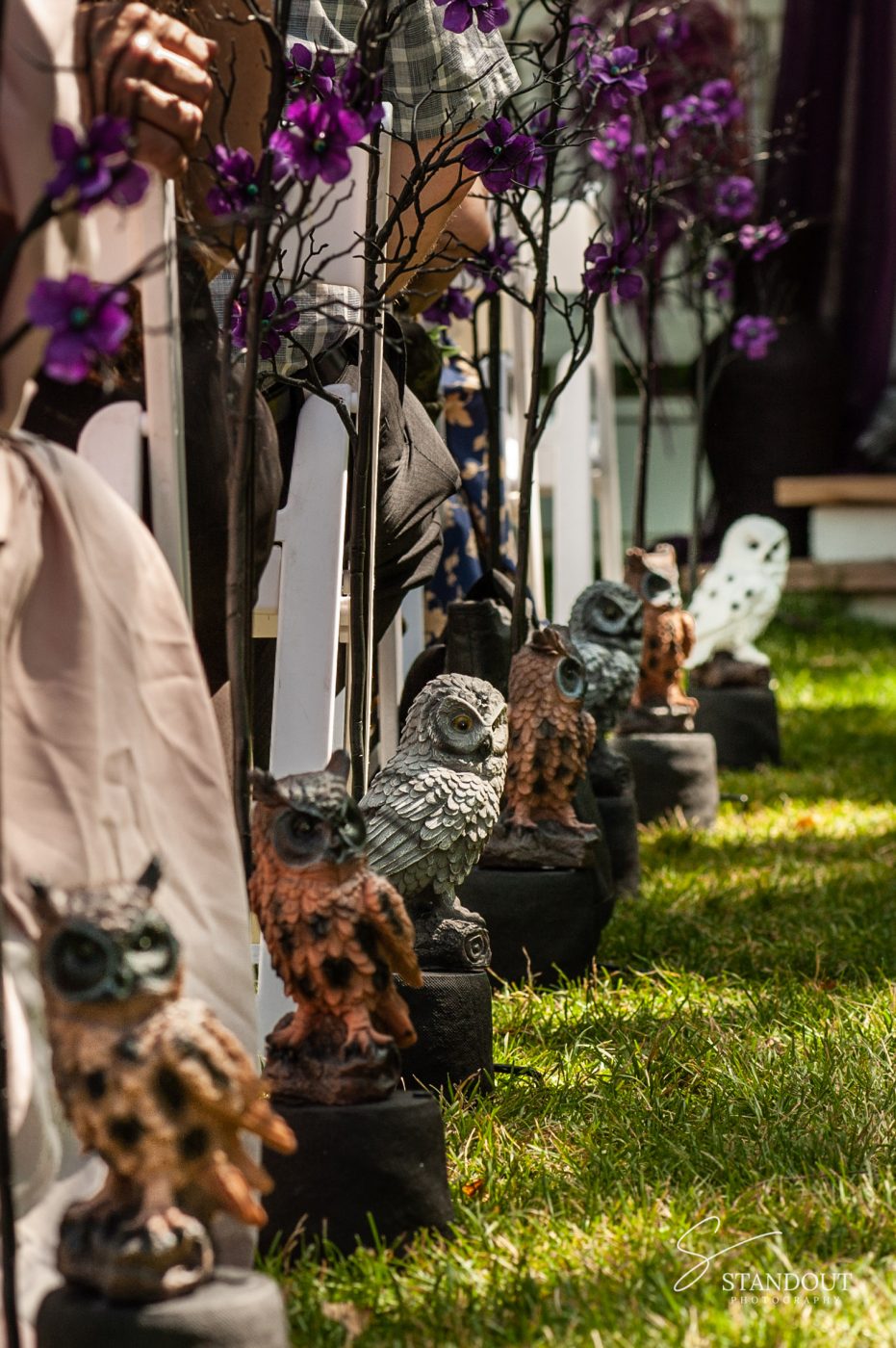 One of Mandie and Shane's best friends and a member of the bridal party, Chris, joint officiated. with Justice of the Peace, Norma Gibbon. And of course, they incorporated the "unbreakable vow" into the ceremony. The perfect addition!
Sitting among the attendees was a Dumbledore, a Lucius Malfoy, an Alastor Moody, and a few Harry's, among others dressed in various robes and witch hats – all fulfilling an invitation from the Bride and Groom for their guests to dress up to the Harry Potter theme.
After the ceremony, we snapped some group photos of the bridal party in full wizard-garb on the front lawn of the Norland.
Blues, golds, and purples dominated the colour scheme, with the bridesmaids' purple dresses from Wish, and bouquets of brilliant blue and purple flowers from Flowers on 9th.
Shane, Mandie, and the entire bridal party had unique wands as props, a fun addition to the formal photos. We thought this huge tree stump had a spooky, wizard feel, like something from the Forbidden Forest.
The reception was full of details and decor to fit the theme, with each table centerpiece a unique homage to locations from the Harry Potter world. There was a Gringotts bank, the Chamber of Secrets, etc. Winged keys were hung from the head table, and candles appeared to float near the ceiling. Each guest received a "golden snitch" at their table place, and guests were instructed to call out "mischief managed" in exchange for a kiss from the Bride and Groom.
Catering was provided by LA Chefs, was delicious and absolute hit! We heard lots of great comments from happy guests!
"I went around, on a wing and a prayer hitting every cake shop I could praying that someone would agree to make me a Sorting Hat wedding cake. Edible Elegance was the only shop to step up to the challenge. They hit it out of the park. "

Mandie
DJ services were provided by Christian and Zak of Sounds Unlimited. They did a great job during the ceremony, making sure the vows, spells, and all of the fun theatrical elements were totally audible. Then they kept the party going late into the night with some awesome tunes!
We approached Mandie and Shane with a fun photo idea – a wizard duel at their own wedding reception! Jackie is a Photoshop wizard in her own right and added the explosive touches to this fun reception photo! Something a little different!
"Jackie and Rebecca were the most amazing, sweetest photographers to work with. When I told them my theme, they got it. Jackie came up to me on the dance floor and showed me a Harry Potter screen capture and asked if the groom and I could pose that way so that afterwards, she could Photoshop in an wand duel. That sort of attention to detail and creativity is exactly what I was hoping they would bring to the table and they delivered in spades. Or should I say, in magic."

~ Mandie
Due to the schedule and to ensure Mandie and Shane could enjoy their day with all of their family and close friends, they chose to do another short session with us the day after their wedding. We love that they were just as enthusiastic as the day before – despite the late night! We took some time for more intimate couples portraits, as well chose some fun locations around the city of Lethbridge with the Harry Potter theme in mind!
Shane and Mandie said one of the reasons for a Harry Potter theme, was that it was significant for both of them. Whenever either one of them is sick, they snuggle up together and have a Harry Potter Marathon. Its a special memory for the two of them, and now will be for their family and friends too!
We wish Shane & Mandie all the best in their next adventures together! We truly enjoyed working with everyone and capturing their vision of their special day.

Jackie & Rebecca